Fly Technology, the official distributor of DJI equipment and, on September 2, held a presentation of the DJI OM 4 steadicams and the FeiyuTech range.
DJI is actively expanding its line of ground-oriented handheld gimbals. The OM 4, as the name suggests, is the fourth version of the Osmo Mobile. This device allows you to get a cinematic picture when shooting video with smartphones, compensating for the shake of the operator's hands in dynamic scenes and implements a number of additional functions that expand the creative potential of mobile video production.
Compared to previous models, OM 4 has improved the algorithms for the motors and the interaction between the smartphone and the stabilizers, as well as simplified the process of preparing the tandem for work. The mounting system received a magnetic pad, the counterpart of which is glued to the smartphone body or case, and installation and removal is quick, literally in one motion. This approach avoids manual precise positioning of the housing, as it happens automatically. If the sticker is contrary to aesthetic considerations of the wearer or interferes with everyday use, the OM 4 will work with a magnetic, but removable mount.
The motors are more powerful to handle the stability of heavier loads, which in turn allows for wider use of accessories such as external microphones, lens attachments and even external light sources.
The proprietary Mimo application in conjunction with the stabilizer allows you to implement several automatic tracking modes, including object tracking (ActiveTrack 3.0, the fourth version has improved the stability of object detection), shooting hyperlapses and panoramas. OM 4 itself can interoperate with several professional third-party applications such as Filmic Pro.
The built-in battery not only provides power to the gimbals, but is also ready to share it with your smartphone. During operation, you can recharge the OM 4, but this function is required rather as a safety net, since under active load it can easily withstand a shooting day, the smartphone's memory will fill up clearly faster.
If DJI is one of the leaders in the field of drones, at least in the Ukrainian market, then in steadicams potential buyers have a choice. Chinese manufacturer FeiyuTech offers similar functionality at more attractive prices, as well as a range of models with interesting features. The FeiyuTech brand itself, in addition to the trademark, has its own production facilities, and its products, including the most important units of any stabilizer – motors – are bought by other companies.
The FeiyuTech lineup includes products for the operator of all levels, from professional systems for heavy cameras with electromechanical Follow Focus to budget models.
For example, the single-motor FeiyuTech Vimble One is able to compensate for smartphone shake and at the same time provide the camera with a significant distance from the operator.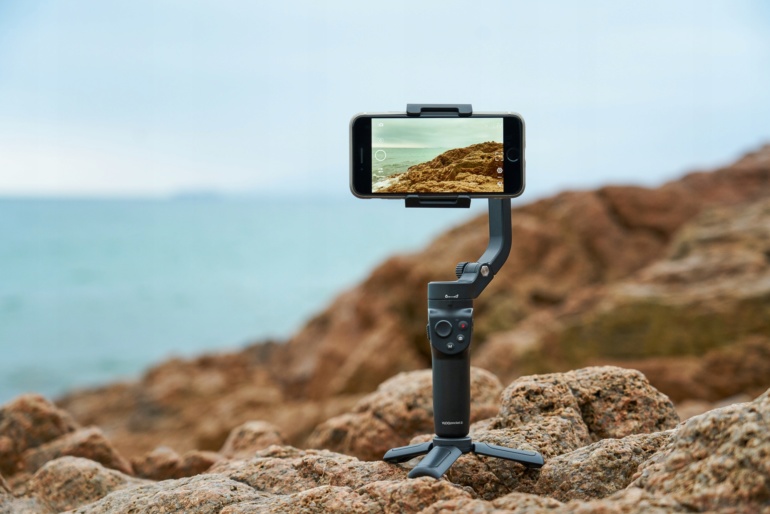 And VLOG Pocket 2 is a foldable portable three-axis stabilizer with push-button control and a joystick, which implements several scenarios: from tracking to Hitchcock's Dolly Zoom.