Aviation cellular stations have a number of advantages over their terrestrial counterparts. They can cover a large area and easily move to areas where they are needed, such as remote regions or areas affected by a natural disaster. Although this concept has been around for many years, the technology is still under development.
However, Alphabet and Japanese tech giant SoftBank have announced the next milestone in the concept. They managed to establish a stable LTE connection from a solar-powered unmanned aerial vehicle, which was in the stratosphere at an altitude of 62 thousand feet (about 19 km). At the same time, the connection was good enough to support an international video call with participants from Japan and America.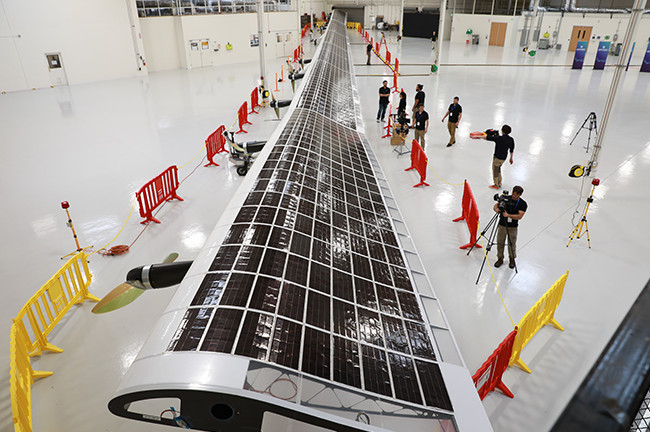 The signal was distributed using an autonomous Sunglider drone equipped with solar panels and capable of staying in the air for several months. This huge drone looks like one massive wing and is about 78 meters across. It is propelled by 10 propellors and reaches a top speed of 110 km / h. Sunglider is planned to be located high in the stratosphere – above commercial flights. He will be able to independently adapt to changing winds.
According to HAPSMobile, this successful test of LTE transmission is the world's first case for an autonomous fixed-wing aircraft.
"The payload worked as planned in difficult stratospheric conditions with wind speeds exceeding 58 knots (approximately 30 meters per second) and temperatures dropping to -73 degrees Celsius," the company said.
Immediately after the establishment of the LTE connection, it began to be used for the needs of video conferencing. The conference participants communicated via ordinary smartphones. HAPSMobile claims the call was "high definition" and "low latency," but did not provide details on the connection speed.
In a statement to the press, HAPSMobile CEO and President Junichi Miyakawa said the test flight brought the company one step closer to achieving its goal of creating clean aircraft that can provide high-speed internet anywhere in the world. Such a base station is capable of hovering in the sky solely on solar energy.
Source: The verge