Get a free license of Aiseesoft iPhone Cleaner for Windows for 1 year. The program is designed to clean iPhones and iPad from junk files, applications, and photos, free up space, and permanently delete personal data.
Aiseesoft iPhone Cleaner is a cleaner for iOS devices that allows you to remove unwanted apps, photos, documents, and other data on your smartphone or tablet. The utility also protects your privacy by allowing you to delete personal data on old devices permanently and makes your iPhone and iPad faster and safer.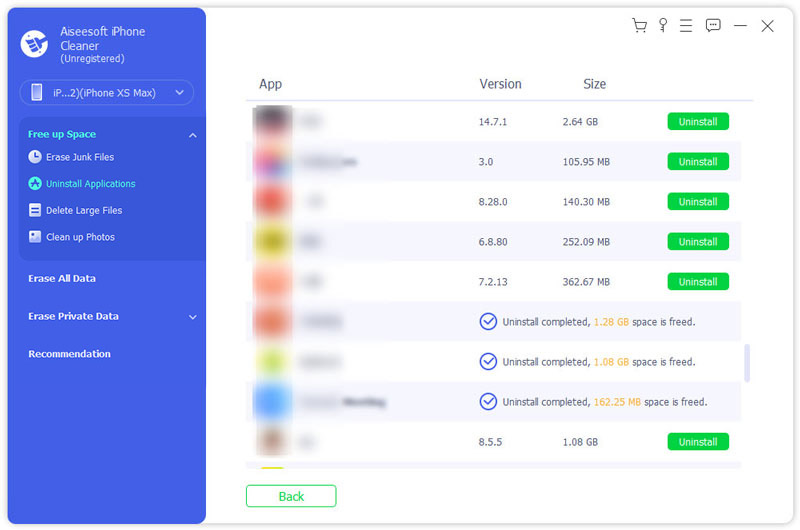 Main Features of Aiseesoft iPhone Cleaner
Delete unnecessary data to free up space.
Is your iPhone running slow? If yes, it's likely a sign that your phone doesn't have enough free space. In this case, you should clean up your iPhone of unnecessary data to speed it up. The Free Up Space tool in Aiseesoft iPhone Cleaner allows you to solve the problem of running out of free space on your iPhone. The utility helps you delete and clean junk documents and data on your iPhone, such as junk/temporary files, unused apps, junk photos, and large files.
Erase All Data on iPhone Permanently.
If you need to erase all data on your iPhone or iPad, for example, to sell your old device, Aiseesoft iPhone Cleaner will also help you. The utility offers a tool to completely and permanently delete personal data from iPhone. With the help of the Erase All Data mode, you do not have to think long and decide what to delete. Just run a complete cleanup and wait for the process to finish. Once personal data is deleted, it cannot be recovered by other users.
Delete personal data and apps selectively.
Even if you only want to remove one specific file or file type, you can use the Erase Private Data tool to preview and selectively delete personal data and documents. It can scan and delete contacts, messages, call history, photos, notes, calendars, voice memos, Safari cache, and advanced settings. It also lets you delete all the contents of third-party apps like WhatsApp, Line, Viber, Kik, and more.
Aiseesoft iPhone Cleaner Free License for Windows
For a 1-year free license of Aiseesoft iPhone Cleaner for Windows, follow the steps below:
1. Go to the promotion page (in German). You can translate the page into English as well.
2. Fill out the form
3. The license key (Registration code) will be delivered to the specified email address. If you don't receive an email with a code for a long time, check your spam folder.
4. Download and install the program on your Windows computer:
Download Aiseesoft iPhone Cleaner
System requirements:
Supported devices: iPhone or iPad: iOS 5 and above, iOS 11, iOS 12, iOS 13, iOS 14, iOS 15 and iOS 16.
Supported OS: Windows 11 / 10 / 8.1 / 8 / 7
Requires iTunes 11.4 or higher installed
Note
To operate the Aiseesoft iPhone Cleaner app for Windows, you need to connect your mobile device via a USB cable to your computer by fulfilling the following conditions:
You must have the latest version of iTunes for Windows installed and running on your computer.
On your iPhone, iPad, or iPod touch, confirm that you want to allow access to data for your computer when you are prompted to "Trust this computer?" To trust the computer, click "Trust."
5. After opening the program, click the Register button.
6. Enter the code from the email and click the Register button.
Terms of the offer
A 1-year license of Aiseesoft iPhone Cleaner is provided for one Windows device.
The license period starts from the moment you receive the registration code.
The product is intended for home non-commercial use.
Free updates are available during the license period.
Free technical support is not available.