On Tuesday, October 13, Apple will host its second fall pressconference, where the announcement of four iPhone 12 models and a more compact smart speaker HomePod mini for $ 99 is expected. However, this event will not be the last this year and in November we will have another presentation from Apple. About this October 9 reported authoritative insider and Bloomberg journalist Mark Gurman.
Mark Gurman is known for his close ties to Apple sources and has provided us with reliable information on more than one occasion in the past. For example, he was among the first to report that the iPhone 12 will not be presented at the first autumn presentation (on September 15, Apple introduced updates to the iPad Air and iPad, as well as two watch models – Series 6 and the cheaper SE), but at the second in October.
So, according to Mark Gourmet, Apple decided not to announce new computers based on its own ARM processors along with the iPhone 12, but to do so at a separate event in November. This makes sense, given how important the move is for Apple – at WWDC on June 22, announcing the move to native ARM processors in Macs instead of Intel's x86-compatible CPUs, Apple CEO Tim Cook said it was a "historic day" companies.
According to Bloomberg, Apple's first in-house ARM-powered 13-inch MacBook Pro will be powered by the 5nm A14X SoC, a derivative of the A14 used in the iPad Air and iPhone 12. This figure is consistent with an earlier forecast by analyst Min Chi. Kuo. The next in line after the 13-inch MacBook Pro, according to Kuo's forecast, is the 24-inch iMac.
Earlier it was reported that Apple is developing at least three SoC related to the Apple A14. Also in development, according to the leaks, is a SoC for Mac based on SoC A15 (tentative name) that will be used in the 2021 iPhone. In addition to the computational cores of the CPU (the firstborn should be 12-core), the SoC for Apple computers will include a graphics core and a Neural Engine for machine learning tasks, like in mobile counterparts. The new ARM-based MacBook is expected to surpass its Intel-based predecessor not only in performance, but also in autonomy.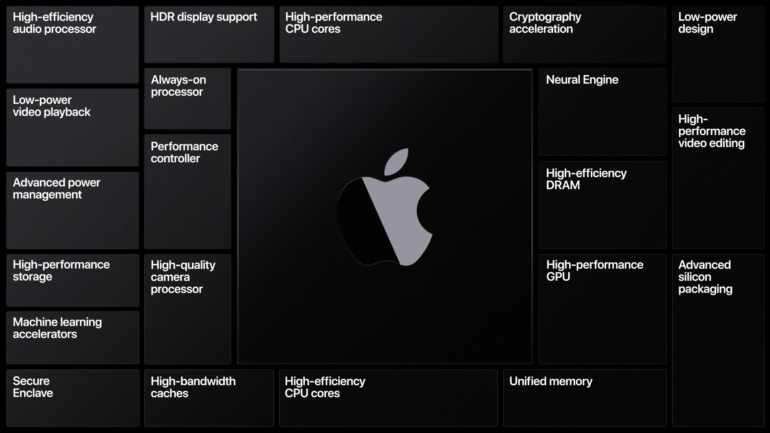 Earlier, Apple assured that users could easily run applications built for the old architecture on new computers, and it would take developers only a few days to add support for new processors to existing applications.
Apple estimates that the transition to in-house processors will take two years. That is, by 2022, the entire range of Apple computers will run on ARM processors. This transition will mark the third change in the architecture of Apple computers: in the early 90s, the Cupertino giant switched its PCs from Motorola processors to IBM's PowerPCs, and in 2005 there was a transition to conventional Intel CPUs. Interestingly, the scheme was the same then – the first to use Intel CPUs were the MacBook Pro and iMac. Apparently, the story goes in a circle.
iPhone 12 – pre-order and release dates, prices, similarities and differences of new Apple smartphones
Source: Bloomberg